Car Detailing Woodbridge Va
At A Perfect Shine we offer three tried and proven services to suit your car's needs - Full, Premium & Signature Detailing.
Looking For Auto Detailing in Woodbridge Va
You might be wondering what exactly car detailing is and if your car needs it. Whether you're a new car owner or have been for a long time, you will need a thorough car detailing to improve your vehicle's value, its overall performance and extend its lifespan.
Caring a vehicle's interior and exterior is important in keeping your car in good condition. Surface cleaning alone isn't enough, it's more than just cleaning, and washing your car with water and soap. Car detailing involves, tire cleaning, polishing, window tinting, reconditioning overall appearance and performance that help prevent future damage.
At A Perfect Shine Detailing, our complete detailing package consists of both advanced interior and exterior detailing service giving your vehicle the right car care they need.
Our experienced detailing crew are equipped with adequate training on a variety of detailing services customized in giving you an exceptional outcome, precision work done by hand. We use safe leather treatment, car care products and solutions to remove stains and effectively eliminate odor.
Reduce the worry of accidentally damaging your car when cleaning it yourself. Hire only the trusted car service in Woodbridge, VA. With over 16 years of experience in the mobile car detailing industry, we are known to provide the best detailing service to all types of vehicles ( truck, RV, and motorcycle) all over Arlington and Springfield
We guarantee the right car care and detailing tools designed to clean, enhance and to bring your vehicle back to its original condition anytime you need. Whether you are at home or at work, A Perfect Shine Detailing is mobile and we come to you!
Our service strives for the best-detailing experience for every appointment made. Our detailers are committed to exceeding our client's expectations by providing unmatched customer service and an exceptional detailing service in the Woodbridge area. Give us a call today for more info!
Signature

The best detail you can get for your car. Starts at:

$310

Premium

When your car's interior need a lot more attention. Starts at:

$230

Full

For cars in need of a basic cleaning. Starts at:

$190
Gift Certificates
We offer the option of buying a car detailing gift certificate for a friend or a loved one, so that they can have their car detailing whenever they want!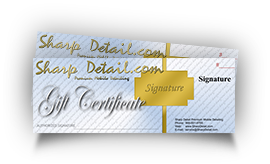 Learn More