Car Detailing Arlington Va
At A Perfect Shine we offer three tried and proven services to suit your car's needs - Full, Premium & Signature Detailing.
Looking For Car Detailing In Arlington Va
The Perfect Shine detail company is a well-known brand in the area for car detailing services. The company has been operating in the area for more than 15 years now, and is recognized for its expertise. Providing the best interior, exterior detailing, vacuuming, paint protection, and hand car wash in Arlington, Virginia.
Moreover some people find it difficult to get their car washed or detailed from a center because they have to visit their service center, then wait until their turn comes and then sit while the car is cleaned.
In Contrast, getting mobile car detailing in Arlington Va has its own benefits. You can call any detailing company or schedule an appointment via their website at a convenient time and place, and the detailer will come clean your vehicle while you don't have to sit and wait for the detailer to finish the job.
That is why A Perfect Shine is a purely Arlington auto detailing company serving customers at their doorstep. With everything from outdoor car detailing to complete detailing inside and out, we have something to suit everyone's needs. Those packages are available on our website, which is designed to fulfill everyone's requirements.
We are extremely sensitive to the connection our customers have with their vehicles, which is why we give a great deal of attention to what we do, and this shows in our results with care and consciousness, but without compromising the originality of your vehicle.
Car cleaning in Arlington VA is done with attention to detail that is reflected in positive customer reviews. Our expert detailers in Springfield Va and Woodbridge Va have high levels of training and are well mannered so they will do a great job on your car.
Signature

The best detail you can get for your car. Starts at:

$310

Premium

When your car's interior need a lot more attention. Starts at:

$230

Full

For cars in need of a basic cleaning. Starts at:

$190
Gift Certificates
We offer the option of buying a car detailing gift certificate for a friend or a loved one, so that they can have their car detailing whenever they want!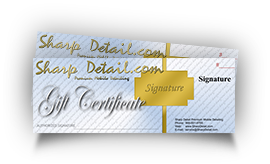 Learn More