Mobile Car Detailing Springfield Va
At A Perfect Shine we offer three tried and proven services to suit your car's needs - Full, Premium & Signature Detailing.
Need Auto Detailing in Springfield
Regular maintenance is needed for your vehicle every now and then, and a simple car wash cannot satisfy all your needs. This is the reason you must seek good car detailing in Springfield. Moreover, speaking about A Perfect Shine Detailing, the company is in business for 15 years and offers the best services to its customers.
Most people don't think about getting their vehicles cleaned and they only get regular car wash in Springfield VA, but when it comes to your car's health and care, having your vehicle detailed is a must.
Likewise, some people ignore the new vehicle as well, causing it to deteriorate very quickly. It is therefore imperative to routinely have your car cleaned by professionals ins and outs. The new vehicle needs to be maintained the most at the interior and exterior to make it last longer.
That's why we are the best auto care in Springfield serving hundreds of customers per month. Compared to our competitors, we are unique because of our work approach and commitment. Our work reflects our commitment to excellence.
We take pride in standing out from other Springfield car detailing companies, by ensuring that your car receives attention to detail and meets your needs. We have been in business for a long time, so our professionals have first-hand knowledge, as they know which hidden parts of the car require extra attention.
If you are looking for mobile auto detailing in Springfield VA at your home ease, then you should call A Perfect Shine Detailing today.
Signature

The best detail you can get for your car. Starts at:

$310

Premium

When your car's interior need a lot more attention. Starts at:

$230

Full

For cars in need of a basic cleaning. Starts at:

$190
Gift Certificates
We offer the option of buying a car detailing gift certificate for a friend or a loved one, so that they can have their car detailing whenever they want!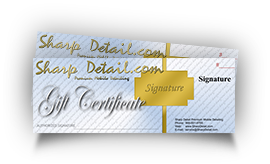 Learn More