Mobile Car Detailing Rockville Md
At A Perfect Shine we offer three tried and proven services to suit your car's needs - Full, Premium & Signature Detailing.
Need Auto Detailing In Rockville Md
Have you ever wondered if car detailing is worth it? or waste of money? Well some people think Car Detailing Rockville Md is an essential part in keeping their vehicle in good condition but others think it's a waste of cash.
This question shouldn't be that hard to answer especially if you have pets and kids who can damage the cabin's condition.
Neglecting to maintain your vehicle's interior and exterior, will not only affect its overall appearance, but also your car's value, performance and most importantly, its lifespan. When regular maintenance is not kept up, this will not only decrease your car's value but may result in more serious issues and unnecessarily high repair bills down the road.
Regular car detail is vital in keeping your car in its best condition possible. A Perfect Shine auto detailing rockville md service offers extensive and thorough cleaning of both the interior and exterior of every vehicle in Springfield and Manassas Va to improve overall appearance and performance for years
We keep your car looking good as new, avoid, minimize, and prevent any types of interior wear and tear, damages and provide vehicle diagnostics.
A Perfect Shine Detail's highly skilled and professional mobile car detailing rockville md compnay can help keep your car running smoothly, making it more efficient while looking sharp.
We guarantee to provide a thorough and intensive cleaning of the interior and exterior of your vehicle, to restore it as close as possible to its original condition, preserving its value, and enhancing your comfort, safety, health and cleanliness.
Detailing consumes time and energy, and is meticulous work to do. You would also have to purchase specialized tools and products required to achieve the desired results.
We understand the value of your time and money! If you feel like you don't have enough time to invest into cleaning and maintaining your own car like professional detailers do, simply book an appointment through our website - we are always ready to help and the results will better than any physical car wash in rockville.
At A Perfect Car Detail we offer a convenient, effective and proven solution for car detailing in rockville md and all your other automotive needs. Our car detailing services are mobile to make everything convenient for you. Now you can get a professional car detailing right at your doorstep, anytime anywhere you need.
We offer a variety of car detailing packages at an affordable price giving the right car care solutions and diagnostics your car deserves.
Signature

The best detail you can get for your car. Starts at:

$310

Premium

When your car's interior need a lot more attention. Starts at:

$230

Full

For cars in need of a basic cleaning. Starts at:

$190
Gift Certificates
We offer the option of buying a car detailing gift certificate for a friend or a loved one, so that they can have their car detailing whenever they want!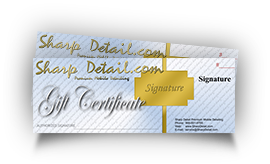 Learn More