Car Detailing Manassas Va
At A Perfect Shine we offer three tried and proven services to suit your car's needs - Full, Premium & Signature Detailing.
Looking For Car Detailing In Manassas Va
Located in Virginia ,a beautiful city of Manassas with a population of 41,174 and every fourth person owns a car. So, you will have no shortage of options for auto detailing in the area, but you want the best Car Detailing in Manassas Va who will do the work like a pro.
Furthermore you love your car and are very selective in selecting the right detailer for it. And regardless of whether you require exterior or interior vehicle detailing, you need a company that has been in the local area for more than 15 years.
That's where A Perfect Shine fits in with its many years of experience in the industry and all of the positive reviews. The company has over 8 detailers who are working in the industry for years now.
Every detailer who comes in goes through a rigorous training program prior to being able to accept a job from us. In this way, you get to work with any of our detailers, and you find that each one is full of knowledge. We offer Car detailing in Silver Spring, Columbia Md and many other areas.
We will make sure your vehicle is meticulously detailed, paying attention to each detail and to hidden places where mud and hair stick. Your upholstery and mud under your carpets or seats will be thoroughly cleaned and vacuumed.
As a mobile Auto Detailing Manassas Va business, we are committed to providing customers with high-quality, premium, and affordable car detailing and car wash in Manassas va. A Perfect Shine Detailing is a highly experienced and devoted company delivering a completely satisfying experience to our clients.
Signature

The best detail you can get for your car. Starts at:

$310

Premium

When your car's interior need a lot more attention. Starts at:

$230

Full

For cars in need of a basic cleaning. Starts at:

$190
Gift Certificates
We offer the option of buying a car detailing gift certificate for a friend or a loved one, so that they can have their car detailing whenever they want!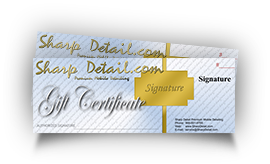 Learn More