Car Detailing Falls Church Va
At A Perfect Shine we offer three tried and proven services to suit your car's needs - Full, Premium & Signature Detailing.
Looking For Auto Detailing in Falls Church Va
Being environmentally conscious is not just about plastic and straws, it's more about making everyday best choices that can help the environment and this includes choosing a Car Detailing Falls Church Va company that guarantees every vehicle owner in Maryland, Virginia and Washington DC safe and friendly environmental practices.
Climate change is a company's responsibility. They produce just about everything that consumers buy, use and discard. From every food we consume, household items, beauty products and electronics, companies play a huge role in driving global climate change.
We at Perfect Shine Detailing understands the frailty of our environment and the importance of taking steps in protecting it. For over 15 years, we are known in the industry in providing quality detailing service and have invested in sustainability throughout our operations and services.
We pride ourselves in practicing water and power conservation and guarantee usage of eco-friendly products. We keep your car looking shiny inside and out while leaving you guilt-free.
We provide convenience - We come to you!
Everybody wants mobility and convenience - need not to worry we got you covered! A Perfect Shine comes to your selected location anywhere in Falls Church Woodbridge and Leesburg fully equipped with power and water. All you need to do is book an appointment and hand us your keys.
You can trust us with our perfect auto detail proven and tested auto detailing services in Falls Church Va to enhance your car's overall look, efficiency and longevity without compromising green practices.Our mobile car detailing service uses the lowest water system. We use less than a gallon of water per service and only use products that are proven environmentally safe.
Easy and Quick Booking Process!
We offer the convenience you need. A Perfect Shine offers an easy and quick booking process: call us or book straight from our website. Get your car detailed anytime anywhere in Falls Church, VA be it from home or office location.
Our experienced and certified car detailing falls church va technicians are committed to provide your car a complete and thorough interior and exterior mobile car detailing service, from top to bottom, done only by seasoned hands.
Unsure what detailing package option to choose from? Trust the experts! We know what suits your car's needs. Call us today to schedule your appointment or visit our website. Get your first car detailing and get a discount upfront.
Signature

The best detail you can get for your car. Starts at:

$280

Premium

When your car's interior need a lot more attention. Starts at:

$220

Full

For cars in need of a basic cleaning. Starts at:

$160
Gift Certificates
We offer the option of buying a car detailing gift certificate for a friend or a loved one, so that they can have their car detailing whenever they want!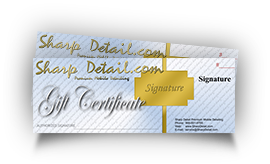 Learn More