Car Detailing Leesburg Va
At A Perfect Shine we offer three tried and proven services to suit your car's needs - Full, Premium & Signature Detailing.
Car Detailing Vs Car Wash
Many people confuse car wash with car detailing service. Truth to be told, It is incomparably more than that! The initial step in determining the difference is to understand that a car detail is not even close to a car wash but a car wash is included in the car detailing process.
Carwash is incomparable to the quality of auto care products used, techniques, and procedures that Car Detailing Leesburg Va can offer. It is a more in-depth and meticulous car care procedure than a drive through or a normal car wash.
Car wash can also damage your car's finish. Automatic car wash is one of the most common culprits in scratches and abrasions in your vehicle's finishes. Drive-through car wash uses an automated system such as high-pressure washers, and abrasive chemicals that can cause car's paintwork getting damaged.
And don't be deceived! Some car wash operators include detailing into their car wash sales and advertisement that apparently is not as extensive as what professional detailing companies can give and this confuses consumers a lot more. That's why we offer extetensive detailing in Burke Va, Annandale Va and nearby areas.
Auto Detailing Leesburg Va
At A Perfect Shine Detail we provide advanced and complete detail, cleaning and restoration of every vehicle in Leesburg, VA that promises a flawless outcome. We are dedicated and committed to provide your car the best interior and exterior mobile detailing service, from top to bottom, done only by hand by our certified and trained detailing specialist.
We offer a variety of extensive exterior and interior detailing packages to choose from. Our exterior detailing focuses on the car's body, wheels, rims, and windows. It includes washing, polishing, waxing, paint correction & protection, and degreasing to remove all your vehicles imperfection.
Interior Detailing on the other hand involves vacuuming, conditioning, leather restoration and deep cleaning. The car care package we offer includes sanitation, tire, and wheel detailing, paint correction, engine cleaning, and a lot more.
These procedures are proven and tested in restoring every vehicle in Leesburg, VA to its original condition, improve overall appearance, maintain its value, extend its lifespan, and lower risk of getting a rusty undercarriage.
Depending on your current car condition, our seasoned detailing specialist can help you pick the right Auto Detailing Leesburg Va package that suits your car's needs.
Signature

The best detail you can get for your car. Starts at:

$310

Premium

When your car's interior need a lot more attention. Starts at:

$230

Full

For cars in need of a basic cleaning. Starts at:

$190
Gift Certificates
We offer the option of buying a car detailing gift certificate for a friend or a loved one, so that they can have their car detailing whenever they want!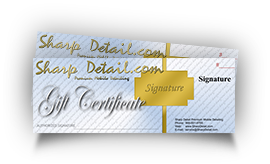 Learn More