Car Detailing Fairfax Va
At A Perfect Shine we offer three tried and proven services to suit your car's needs - Full, Premium & Signature Detailing.
Looking For Auto Detailing in Fairfax VA
Our vehicles serve as our protective shield when we go out to the road, especially in today's time, where we navigate life amid the COVID-19 pandemic. Our vehicles are our primary use not just for daily commuting needs: when we go to work, buy groceries, run errands, but essentially, we rely on them for safety and emergencies.
Our car protects us, gives us flexibility, safety and comfort. With all of the unknown in the future, we want to make sure we extend the convenience we get from them by increasing the car's longevity.
Now the question is how do you increase a car's longevity? Getting a professional Car Detailing Service in Fairfax, Va should give your car everything they need: inside and out.
Your Trusted Mobile Car Detailing in Fairfax, Va since 2005
A Perfect Shine Car Detailing Service gives you and your car the protection and peace of mind you deserve. We provide advanced mobile car detailing fairfax va service and restoration to enhance your car's engine performance, restore your car's interior and exterior, making it run sharp and clean. We guarantee intensive sanitation and disinfection service that gives you and your family the comfort and safety you all need.
Our experienced detailing specialists in Woodbridge Va and Burke Va are dedicated and committed to provide thorough cleaning, reconditioning, tackling every stain, unpleasant odor, scratch, and dents present on your vehicle.
Get the most meticulous auto detailing fairfax va process and premium car care products that your car deserves. Guaranteed complete detailing service from top to bottom, hand car wash by our detailing specialists with over 15 years of experience in the industry.
We offer a premiere package that focuses on your car's body, wheels, rims, and undercarriage which includes washing, polishing, waxing, paint correction, and degreasing to remove all imperfection. With our Interior Detailing package we promise your car a complete restoration, deep cleaning, conditioning, and most importantly sanitation and disinfection.
A Perfect Shine car detailing fairfax virginia disinfection process starts with the most frequently touched surfaces such as your car door handles, steering wheel, controls, gear shift, seat belts, and seat upholstery using a safe disinfectant solution to eliminate contaminants and viruses from both in and out surfaces.
Signature

The best detail you can get for your car. Starts at:

$280

Premium

When your car's interior need a lot more attention. Starts at:

$220

Full

For cars in need of a basic cleaning. Starts at:

$160
Gift Certificates
We offer the option of buying a car detailing gift certificate for a friend or a loved one, so that they can have their car detailing whenever they want!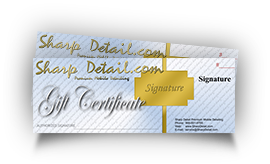 Learn More