Car Detailing Burke Va
At A Perfect Shine we offer three tried and proven services to suit your car's needs - Full, Premium & Signature Detailing.
Looking For Auto Detailing in Burke Va
Water is one of our precious resources, we use it daily to cook, wash clothes or take a bath. We cannot live without it, our bodies need water to function properly just like plants, animals and cars too.
This is why conserving water is important to avoid water shortages and worst, drought. Surprisingly, there are a huge number of people that are committed to practicing green and it'll be a huge help if we all do our part.There are little things we can do to save water and this includes using less water when washing your car.
Whether it's DIY (do it yourself), traditional or even automatic car wash, all use a huge amount of water to do its job. They use up to 90 gallons of water per vehicle and this apparently doesn't do any good to the environment. A complete detail service will not only enhance your vehicle's appearance and maintain its interior but it can help preserve your car's value, provides added protection, improves comfort & safety and extends its lifespan.
A Perfect Shine Company understands the importance and value of our natural resources. Known in the Auto Detailing Burke Va industry for over 15 years we are proud we have invested in sustainability throughout our operations.
We practice water and power conservation and guarantee use of safe car care products that are beneficial to both you and your car's health and safety.
Your Trusted Mobile Car Detailing in Burke VA
With over 15 years of detailing experience, we promise excellent customer service and meticulous detailing process to all types of vehicles in Centreville Va and Leesburg. Our trusted and proven detailing process will enhance your car's overall performance, restore appearance and extend its life expectancy.
Our goal is to maintain 90% water efficiency through all our services. Our professional and experienced technician uses significantly less water in every detailing package we offer compared to other detailing companies in the area.
We use the low water system with about less than a gallon of water per car detailing service. Most of our usage is treated water cycle and we only use products that are environmentally safe that gives you peace of mind leaving you guilt free.
Get your car detailed guilt-free in Burke VA
Get the convenience of getting your at home or in any office location. We come to you, wherever and whenever you need it, at your most convenient time. Seasoned in the detailing industry, highly trained specialist, you are guaranteed to get the most meticulous but efficient process that suits your car's needs.
Schedule your car detail today with our easy and quick booking process. Get your vehicle spotlessly clean and sanitized. Call our seasoned detailing crew for booking assistance.
Signature

The best detail you can get for your car. Starts at:

$280

Premium

When your car's interior need a lot more attention. Starts at:

$220

Full

For cars in need of a basic cleaning. Starts at:

$160
Gift Certificates
We offer the option of buying a car detailing gift certificate for a friend or a loved one, so that they can have their car detailing whenever they want!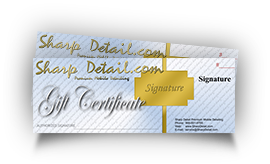 Learn More