Mobile Car Detailing Centreville Va
At A Perfect Shine we offer three tried and proven services to suit your car's needs - Full, Premium & Signature Detailing.
Looking For Car Detailing In Centreville Va
A Perfect Shine Detailing provides interior and exterior detailing with vacuuming, hand washing, paint protection and polishing at a very reasonable rate at Centreville Va, Rockville and Springfiled. Additionally, the company provides different coupons that are of great value.
There are many car detailing options in Centreville, a CDP in Fairfax county with a population of over 71000. Companies that offer free redos and satisfaction guarantees are hard to come by, but with A perfect shine, you get both.
A Perfect Shine has been providing centreville car wash for almost 15 years. In addition to our extensive experience with all types of exterior washing, our team also pays extreme attention to the interior of our customers' vehicles to make sure no hair or dirt is left behind in spots.
Moreover we set the standard for auto detailing in Centreville Va when it comes to professional vehicle cleaning. Having consistently high ratings shows how well we treat our customers. This is very important to us since GMB has earned 5 star ratings with so many reviews.
Now you don't have to worry about all your detailing needs as you can contact us and become a regular customer to receive discounts and coupons.
Get Your Car Detailed by an Exprienced Auto Detailing Centreville Va
Taking matters into your own hands could only worsen present car issues, squashed insects and its residue can be a real pain to chisel off without damaging your car's interior or the finish on your vehicle. Get professional Car Detailing Centreville Va service before it gets worse. Get your car cleaned, sanitized and detailed anytime anywhere in Centreville, VA at your convenience.
We at A Perfect Shine Detailing provide preventative car care that keep your car efficient, restore its value, improve your car's longevity while making it less appealing to bugs and reduce the risk of pests infestation.
We use a wide range of techniques and services to thoroughly clean and sanitize your car's interior, exterior, engine and undercarriage that guarantee to completely eliminate pests infestation. Each solution is customized depending on the type of pest invading your car. All of our methods are proven eco-friendly and safe.
Signature

The best detail you can get for your car. Starts at:

$310

Premium

When your car's interior need a lot more attention. Starts at:

$230

Full

For cars in need of a basic cleaning. Starts at:

$190
Gift Certificates
We offer the option of buying a car detailing gift certificate for a friend or a loved one, so that they can have their car detailing whenever they want!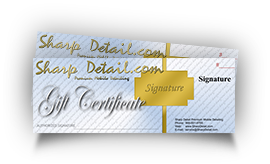 Learn More