Car Detailing Annandale Va
At A Perfect Shine we offer three tried and proven services to suit your car's needs - Full, Premium & Signature Detailing.
Looking For Auto Detailing in Annandale Va
Do you need your car detailed but you just don't have the time?
Detailing is time-consuming and can be a little inconvenient as it requires effort and energy to do a meticulous job. You would also have to purchase necessary products and tools in order to detail your car like a pro would do. Deferring car detail and preventative maintenance wont do any good and could only result in unnoticed problems and unnecessary expenses down the road.
It could be tempting to skip your car in getting detailed. We all struggle with the daily work-life juggle. Good news is, A Perfect Shine Detail addresses all these problems by offering auto detailing services for those with tight schedules, hectic routines, restless weekends and little to no time to spare. Don't skip getting your car detailed today! Hire the most trusted mobile car detailing company in Annandale, VA. A Perfect Shine Detail is your go-to mobile car detailing for people who love their cars but value their time.
The Best Detailing Company in Annandale, VA
Keep your car detailed, clean and sanitized at a very competitive price. A Perfect Shine Detail offers the best mobile auto detailing services and car wash in Annandale, VA's vehicle owners since 2006. Built on the foundation of integrity, our over 15 years of experience in the industry guarantees the best detailing packages that maintain and improve your car's value, comfort, safety and overall appearance and performance.
Detailed cars go beyond the normal car wash to make every vehicle look spotlessly clean both inside and out. Our detailing crew are highly trained on a variety of detailing services you can choose from. Trained only with the industry's top products, techniques and procedures designed in delivering the best result.
With our same day appointment, our experienced specialists are guaranteed to arrive at your pinned location anytime, anywhere you need. We deliver a professional service right at your doorstep bringing the best interior and exterior car detailing services and results to you. We have been servicing all types of vehicles in Manassas, Leesburg and nearby 45km area. Our car detailing packages are mobile to make everything convenient for you, specifically designed to keep your car looking as good as new.
Speak with one of our seasoned detailing specialists! We offer a quick and easy booking process! Book the same day schedule directly from our website or give our 24/7 customer support a phone call today. Our team of seasoned detailers are always available to detail your car in Annandale, VA anytime, anywhere you need.
Signature

The best detail you can get for your car. Starts at:

$310

Premium

When your car's interior need a lot more attention. Starts at:

$230

Full

For cars in need of a basic cleaning. Starts at:

$190
Gift Certificates
We offer the option of buying a car detailing gift certificate for a friend or a loved one, so that they can have their car detailing whenever they want!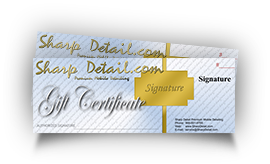 Learn More