Car Detailing Laurel Md
At A Perfect Shine we offer three tried and proven services to suit your car's needs - Full, Premium & Signature Detailing.
Looking For Auto Detailing in Laurel Md
Whether you have a brand new car or an old model, you will do everything to keep your car in good shape. Sadly, no matter how hard you try to protect your car, no matter how careful of a driver you are, scratches, dents, chips and other imperfections are unavoidable.
Scratches even with the lightest ones must be fixed the soonest you find out as exposure of the materials underneath to the elements will only lead to more serious problems such as oxidation and worse, rusting.
Getting rid of scratches depends on which level the damage reaches the car coating. DIY (Do It Yourself) attempt to get rid of the scratches is something you can try however professionals do not recommend this idea as it could only do more harm if not properly done.
Additionally, using the wrong materials and products will extremely damage your paint which only means another unnecessary expense.
A careful detail job can make it totally invisible. With over 15 years in the industry, we at A Perfect Shine Car Detailing Laurel Md guarantee the best solutions to every car issue you may have. Speak with the experts we are more than happy to discuss further our detailing and restoration services
Get premier car detailing package in Laurel, MD
Our tried and proven detailing packages guarantee deep cleaning both the interior and exterior, restoration of the car's overall appearance and detailing and safely degreasing the engine to regain its performance and run smoothly like brand new.
We offer advanced car care products and techniques to remove stubborn scuffs and scratches that will guarantee your car looks good as new!
With customized detail: claying your vehicle, with 3 coats application, use of Zaino Z-2 PRO sealant, wax and polish all of these procedures including wash and dry are always done meticulously by seasoned hands from top to bottom guaranteed to give you flawless result making your car look sharp inside and out.
Trust only the experts in car detailing
A Perfect Shine Auto Detailing Laurel Md is built in integrity and professionalism. With over 15 years of detailing experience we are known for our excellent customer service and meticulous detailing services to all makes and models of vehicles all over Columbia Md and Rockville MD.
Get your car detailed anywhere in Laurel Maryland be it home or office location, we offer the convenience you need. We come to you, anytime anywhere you need it. Call us today or visit our website for more information.
Signature

The best detail you can get for your car. Starts at:

$310

Premium

When your car's interior need a lot more attention. Starts at:

$230

Full

For cars in need of a basic cleaning. Starts at:

$190
Gift Certificates
We offer the option of buying a car detailing gift certificate for a friend or a loved one, so that they can have their car detailing whenever they want!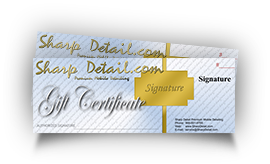 Learn More